AA-3500 Airborne Particulate Monitor
Air-Aide Model AA-3500 Airborne Particulate Monitor provides accurate and instantaneous display of concentration readings on lung damaging particulates and aerosols. AA-3500 is a portable handheld survey tool for measuring lung damaging particulate matter. The unique sensor design has applications in indoor air quality (IAQ), HVAC, environmental and industrial hygiene. Results are immediately displayed and stored in memory. The supplied PC software allows for graphical and statistical representation of the total dust generating process, eliminating the need for repetitive and costly filter gravimetric laboratory analysis.
Applications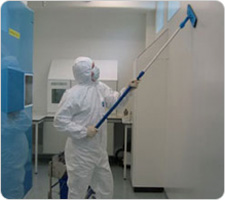 Ventilations system analyzer
Survey of work place compliance
IAQ for respirable particulates
"Green Buildings" Certification
Exposure monitoring of all dusts and aerosols
Features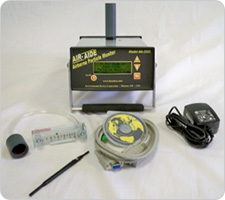 Direct Reading with high resolution
Size selective inlets
On-screen programing
CE, ETL approved
Optional wireless data transmission to computer
Specifications
Weatherproof Enclosure
Sensing range: .001-20.0 and/or .01-200.0 mg/m³
PM size range: .1-100 µm
Sampling flow rate: 2.0 LPM
Alarm output: 90 db at 3 ft
Analog output: 0-2 Vdc
Digital output: RS-232–
Record Time: 1 s. to 15 mon.
Display: Real-Time mg/m3
Operating temp: -10°C -50°C
Battery: Rechargeable 24hr
Weight: 12 lbs
Dimensions: 14 x 6 x 10 in.