EPAM-7500 Environmental Particulate Air Monitor
HAZ-DUST™ EPAM-7500 is a lightweight 7 pound portable monitor and air station for real time measurements of particulate matter temperature and relative humidity in ambient and indoor air. Interchangeable size-selective sampling heads allow PM-10, PM-2.5, PM-1.0 or TSP monitoring. Optional accessories for measuring wind speed and direction are available. A filter holder postponed directly behind the optical sensor provides concurrent gravimetric sampling for cross calibration of optical sensor, further particulate speciation and determination of metal and carbon content.
Applications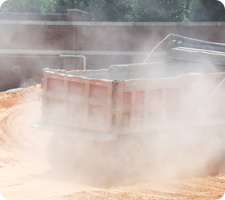 Hazardous Waste Sites
Dust suppression/engineering controls
Walk through IAQ studies
Quantification of particulate mitigation.
Hot Spot location and identification.
Features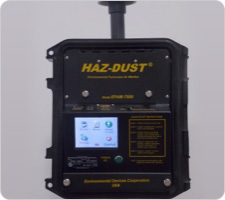 Light-weight 7 pounds!
Color touch screen
Ultrasonic Wind Speed and Direction
GPS
Dew Point & Barometric pressure
Wireless Option
Solar Option
Specifications
Weatherproof Enclosure
Inline 47mm FRM Cassette
Sensing range: .001-20.0 and/or .01-200.0 mg/m³
PM size range: .1-100 µm
Sampling flow rate: 4.0 LPM
Alarm output: 90 db at 3 ft
Analog Output: 0-2 Vdc
Digital output: RS-232–Record Time: 1 s. to 15 mon.
Display: Real-Time mg/m3
Operating temp: -10°C -50°C
Battery: Rechargeable. Approximately 12 hours
Weight: 7 lbs
Dimensions: 14 x 6 x 10 in.