SM-7204 Personal Silica Monitor
SM-4000 Real-Time Personal Silica Monitor The SM-4000 air sampler is mounted in the OSHA defined breathing zone allowing for a more accurate representation of workers exposure. Having a Real-Time Optical Sensor placed in the breathing zone, reduces inner wall dust deposition, experienced by other Real-Time optical devices on the market. In addition, having a gravimetric filter cassette directly behind the optical sensor allows for maximum particle deposition on the filter and thus a more accurate representation of worker exposure. The SM-4000 offers Real-Time Concentration Readings and the DustComm Software allows for graphical analysis and comprehensive time history reporting.
Applications
Foundry Work
OSHA compliance
Stone Cutting
Quarry Work
Tunneling
Rock Drilling
Any occupation which cuts, chips, drills, grinds silica into respirable size fractions
Features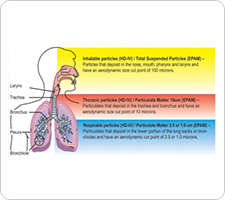 Flow compensated pump
An optical sensor mounted in the OSHA defined breathing zone
Accepts any standard 27 or 25mm pre-loaded filter cassette
Validated sampler meets the ISO 7708 Standard
Easy to clean optical sensor with calibration span verification.
On screen programming for creating a unique aerosol library and data sets.
Specifications
Weatherproof Enclosure
Inline 37 or 25 mm preloaded filter cassette.  
Sensing Range: 1-500,000ug/m3
Flow Compensated Sampling flow rate: 1.0-5.0 LPM
Alarm output: 90 db at 3 ft
Digital Output: Micro USB
Record Time: 1 s. to 15 days
Operating temp: 0 to 50°C
Battery: 22+ hrs @ 2LPM with IOM and no filter
Weight Instrument 1.14lbs
Sensor Weight:  0.6lbs

Dimensions Instrument: 3.5″ x 2.25″ x 4.75″
Dimensions Sensor: 1.75″ x 1.5″