AQ-10 Air Quality Particulate Sensor
Haz-Dust™ Model AQ-10 Air Quality Particulate Sensor is a versatile transducer designed to continuously monitor for the presence of airborne particles. The AQ-10 is calibrated for OSHA and EPA regulations. Suitable for monitoring emissions from cyclone, precipitators, bag houses or any dust control device. The AQ-10 ideal for monitoring air quality in underground transportation systems, ventilation systems, indoor workplace or any other application where immediate data on smoke, dust, fumes or mists is needed.
Applications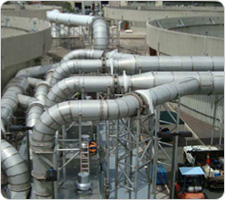 Multipoint monitoring of in-plant dust generating processes
Activates air cleaners/ventilation systems
Monitor in-line filter intergity
Aerosol exposure studies
Dry solids process control
Features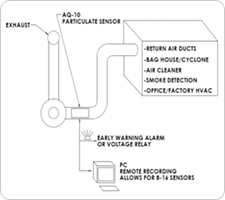 Flex Design
Analog Output
Multipoint
Alarm Output
Alarm Output
Specifications
NEMA 4X Housing
Sensing range: .01-200, .001-20.0 , .01-200.0, mg/m³
PM size range: .1-50 µm
Power: 110 or 220VAC
Alarm output: 7 VDC
Signal output: 4-20mA 0-1 volt (optional)
Operating temp: -4°F to 150°F
Weight: 3 lbs
Dimensions: 7.5 x 4.5 x 4 in.