DPM-7204 Personal Diesel Particulate Monitor
The product is designed for measuring diesel particulate matter for Industrial Hygiene and Environmental air investigations. The HD-7204  is individually worn and offers immediate determination and data storage of air borne diesel particulate concentrations in micrograms per cubic meter. This is the only commercially available personal direct reading aerosol monitor specifically designed and calibrated for measuring occupational exposures of diesel particulate matter in the work place. In addtion, this is the only real-time DPM Compliance monitor on the market.   
Applications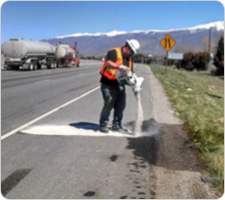 Diesel Engine Surveys
Combustion Efficiency
Mining
Transportation (i.e. bus depots, trucking, freight)
Survey tool for MSHA and NIOSH Compliance Programs
Features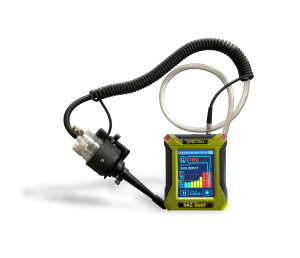 Flow compensated pump
An optical sensor mounted in the OSHA defined breathing zone
Accepts any standard 27 or 25mm pre-loaded filter cassette
Validated sampler meets the ISO 7708 Standard
Easy to clean optical sensor with calibration span verification.
On screen programming for creating a unique aerosol library and data sets.
Specifications
Weatherproof Enclosure
Inline 37 or 25 mm preloaded filter cassette.  
Sensing Range: 1-500,000ug/m3
Flow Compensated Sampling flow rate: 1.0-5.0 LPM
Alarm output: 90 db at 3 ft
Digital Output: Micro USB
Record Time: 1 s. to 15 days
Operating temp: 0 to 50°C
Battery: 22+ hrs @ 2LPM with IOM and no filter
Weight Instrument 1.14lbs
Sensor Weight:  0.6lbs

Dimensions Instrument: 3.5″ x 2.25″ x 4.75″
Dimensions Sensor: 1.75″ x 1.5″